Our Staff
Aubrey Morris, Licensed Professional Counselor, National Certified Counselor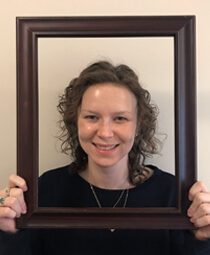 Hi! My name is Aubrey Morris and I am a Licensed Professional Counselor and National Certified Counselor here at Stenzel Clinical.
We all go through things in life and sometimes we need someone to go through it with us, whether you are looking to learn how to cope with anxiety or depression, if you have gone through a loss and are trying to heal, or if you want to grow and work on yourself. I've gone through counseling myself for different reasons on-and-off in my life, so I know how you feel. My ultimate goal is to give you a safe place where you feel accepted and can work to become who you want to be.
I earned my Masters in Clinical Mental Health Counseling at Wheaton College. I work with people of all ages and backgrounds, although I particularly enjoy working with adolescents and young adults. While I work with clients experiencing a range of things, I specialize in assisting those working through Anxiety, Grief and Loss, Self-Esteem and Relational Issues. Anxiety is prevalent for many people and I want to help you learn to cope with and relieve the symptoms you feel hold you back from living the life you want. When experiencing Grief, it is powerful to have space to mourn, heal, and move forward. With Relationships and Self-Esteem, we will work to help you grow, even as we build on what you already do well.
I know how hard it can be to overcome what life throws at you. I use different, creative approaches, such as art therapy and sand tray, to give you skills, to help you learn about yourself, and to provide you the space to process so that you do not feel held back or stuck, but rather empowered, confident, and capable of reaching your individual goals.
630.588.1201
Extension 313
When choosing a therapist, it is important to consider their Areas of Practice. Aubrey's include:
ADHD
Anger Management
Anxiety
Behavioral Issues
Coping Skills
Emotional Disturbance
Grief and Loss
Marriage/Couples Counseling
Parenting
Play Therapy
Self-Esteem
Trauma/PTSD
Women's Issues
---