Our Staff
David Hadar, MA Licensed Professional Counselor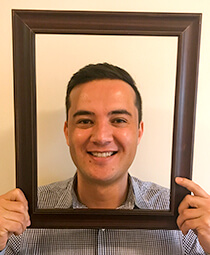 Welcome! My name is David Hadar Ali and I am a Licensed Professional Counselor at Stenzel Clinical Services. I want to congratulate you for taking a step toward feeling better and living a more hopeful life.
There are times as humans when we have exhausted all our options, we feel alone and stuck with our anxiety, depression, conflict in close relationships, and loneliness. Just like physical illnesses, mental health concerns are common and real in times of transition and stress. Getting help is the bravest thing you can do. If you decided to work with me, my hope is to come alongside you and create a safe environment, free from judgment, where you can experience healing, growth, and restoration.
I take a personalized and holistic approach to counseling which means that we will work on identifying your unique areas of inner strength and values to formulate goals for therapy. I also look at the relationship between emotional, spiritual and physical health. Being human is messy and there are often many reasons why stress and change affect us.  My hope is to remain sensitive to your needs throughout our work together as we gain insight and perspective toward your unique experience.
A little about me: I have lived in different cultures and I am fairly aware of diversity of cultures, races, and genders. I earned my Master's degree in Clinical Mental Health Counseling from Wheaton College and my B.A. in Psychology from Taylor University. Prior to pursuing counseling, I worked in different business settings and served in key leadership positions.
I am really excited to meet you and walk with you through a journey of finding hope and living well.
630.588.1201
Extension 327
When choosing a therapist, it is important to consider their Areas of Practice. David Hadar's include:
Life Transitions
Anxiety
Career Counseling
Culture Adjustment
Grief and Loss
Depression
Men's Issues
Relationship Issues
Self-esteem
Spiritual Issues
---