Our Staff
GiGi Borge, Licensed Professional Counselor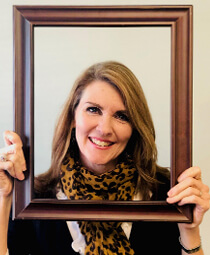 Hello, my name is GiGi Borge. I am a Licensed Professional Counselor here at Stenzel Clinical. I obtained my M.A. in Clinical Mental Health Counseling at Wheaton College. Prior to this, I was raising 3 children, volunteering in my community, working with clients as a strengths-based life coach, and pursuing personal wellness-focused goals. My undergraduate and graduate degrees were focused on language and culture (B.A. in French, M.A. in French Literature, UNC-Chapel Hill), as I am very excited to learn from and work with persons of varied backgrounds. Along with my studies, I lead a meditation/contemplation group, enjoy being active and invested in life, and seek to be grateful for the grace in all of life's ups and downs.
My passion for counseling is inspired by my belief that we are all masterpieces-in-the-making. I love walking alongside others, as we grow in understanding and appreciation of our own strengths, gifts, values and hopes for the future. I am also very relationship-focused, as I believe that deep, authentic connection is a powerful need and a wonderful gift.
In our collaborative counseling, I hope you will gain the insight, healing and empowerment you desire, helping you connect to your life in deep, meaningful and awe-inspiring ways.
630.588.1201
Extension 328
When choosing a therapist, it is important to consider their Areas of Practice. GiGi Borge's include:
Healing from Trauma
Strengths-based Empowerment
Mind-body Integration
Sexual Concerns
Life Transitions
Relational Issues
Spiritual Growth
Children and Adolescents
Depression
Anxiety
---