Our Staff
Mike Gleason, MA Licensed Professional Counselor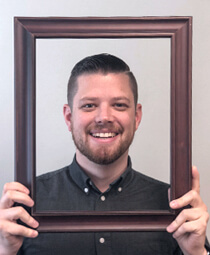 Nice to meet you! My name is Mike Gleason and I am a Licensed Professional Counselor here at Stenzel Clinical Services.
I hold a Master's degree in Clinical Mental Health Counseling from Concordia University Chicago and a BA in Psychology with a Counseling Psychology emphasis from Trinity International University. I have additional training and certifications in substance use, addictions, and co-occurring mental health treatment. I am a Licensed Professional Counselor (LPC), Nationally Certified Counselor (NCC), Co-Occurring Substance Use and Mental Health Disorder Professional (CODP II), and a Certified Alcohol and Drug Counselor (CADC). My clinical experience in the community mental health and substance abuse recovery settings have enabled me to work with a wide variety of clients with unique stories and courageous therapeutic goals.
Starting therapy can be the first step on a journey of courage.
Whether life seems hard to bear right now or you are just noticing some things in your life that need to be addressed or explored, my goal is to walk alongside you with deep compassion and professional insight.
I use a variety of theories and approaches to fit each individual. I believe in helping people find solutions by drawing from the strengths and skills they have been developing throughout their lives. Years of experience in local, international, multi-generational, and cross-cultural ministry settings have expanded my desire to help all people. My faith perspective recognizes the dignity and importance of each person who sits across from me.
Life change is not only possible, it's inevitable. With the help of a compassionate and professional therapist, you can find new ways to move forward with hope. I look forward to working with you as you start your journey in therapy.
Mike Gleason, MA, LPC, NCC, CODP II, CADC
mikeg@stenzelclinical.com
Ext. 334
When choosing a therapist, it is important to consider their Areas of Practice. Mike's include:
Addictions
Adolescents
Anxiety
Cross-cultural issues
Depression
Internet addiction
Self-esteem and Self-confidence
Spiritual Issues
Teen adjustment
Trauma
PTSD
---