Our Staff
Tali the Therapy Dog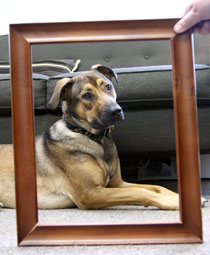 Meet Tali the Therapy Dog (Tali is short for Talitha, which means "little girl" in Aramaic). Tali is a spunky shepherd/lab mix, certified with Therapy Dogs International. Tali was brought to the dog pound after being abandoned in a parking lot at only 4 months old. She was malnourished and very sick, but her loving, friendly personality was indomitable. After months of good food, lots of love, and tons of training, she is now a proud staff member of Stenzel Clinical Services in Wheaton, Il.
There are many benefits the presence of a therapy dog in a counselor's office provides clients. Some of these benefits are rather abstract: they help to calm clients' nerves, provide a cheerful distraction, and give non-judgmental acceptance and unconditional love. However, some benefits are more quantifiable: stroking a receptive pet has been shown to decrease the stress hormone, cortisol. In addition, according to Rebecca Johnson at the University of Missouri who has conducted much of the newer research on the physiological benefits of animal-human interaction, it also increases prolactin and oxytocin, hormones that govern nurturing and security, as well as serotonin and norepinephrine, neurotransmitters that boost mood.
Tali partners exclusively with Suzanne Clarey.
Besides her job at Stenzel, Tali loves all people, retrieving, giving kisses, jumping in snow banks, and tilting her head quizzically.
When choosing a therapist, it is important to consider their Areas of Practice. Tali the Therapy Dog aides in various therapies, including:
Abuse
Anger
Anxiety
Depression
Selective Mutism
Grief/Loss
PTSD
Share
0
0
0
0
---