Care for the Caring: How to Cope as a Caregiver of a Dementia Patient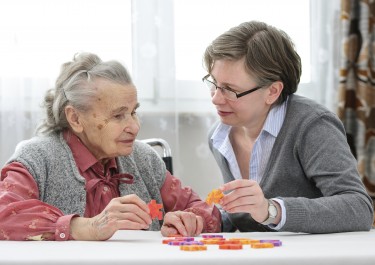 As parents, friends, and relatives age, we often have to take on the role of the caretaker —especially when mental disorders like dementia are involved. Dementia is a general term for a decline in mental ability that is severe enough to interfere with daily life and can include memory disorder, personality change, and impaired reasoning. With 7.7 million cases of dementia each year, this disease is an all-too-common part of life today.
For those currently living as a caregiver of someone with dementia, keep these tips in mind to make sure you're getting the proper care for yourself.
Don't Hold In Emotions
As a caregiver, dealing with a parent or spouse's decline is never easy. You will be experiencing many emotions throughout this time, including anger, fear, sadness, and anxiety. Many people feel guilty for having negative feelings in this situation, but these emotions are normal. It's okay for you to not want to deal with the stress of caregiving everyday—it doesn't make you a bad caregiver. Be patient with yourself and the person you're helping and learn to give yourself the space and time needed to experience your emotions.
Mind Your Own Wellbeing
Along with coping with emotions, don't let caregiving get in the way of your own health and wellbeing. Make time to be with other family and friends outside of the situation. Don't let the caregiving diminish your performance at work, as that will lead to more stress and possible financial hardship. If you're finding that you need extra assistance, there is respite care available to remove some of the burden from your everyday routine. Developing these boundaries and realizing that you're doing your best will keep you from getting warn down while caretaking.
Make Decisions with Support
Unfortunately, dementia is a progressive disease that gets worse over time, and you will eventually find yourself needing to make important decisions for the person. If able, include others who can help you make the best decision possible. This will keep the responsibility from weighing on you as much, making hard decisions a lot easier to accept.
Prepare for Their Memory Loss
As dementia often involves memory loss, preparing yourself for their forgetting is the key to getting through this difficult time. Do your research—this will help you understand what they're going through and find similar experiences and stories to relate to. Dementia is an illness, not a choice, and their memory loss has nothing to do with how much they love you.
Don't Do It Alone
In all of these tips, the most important aspect is that you should not go through this alone. No one has endless compassion, and you don't gain anything from being a martyr. Support from friends, family, and counselors is the best way to manage the stress and emotions that will come during this time.
If you're looking for someone to support you, Stenzel Clinical is here. Our therapists can walk with you through every each aspect of this difficult time.