"WHAT is Going on In That Brain of Hers!?": Grant Stenzel Presents "HUSBAND'S BOOT CAMP" – The Key to Navigating Life at Home
Husbands' Boot Camp gives you three hours of focused training on how to be a better husband.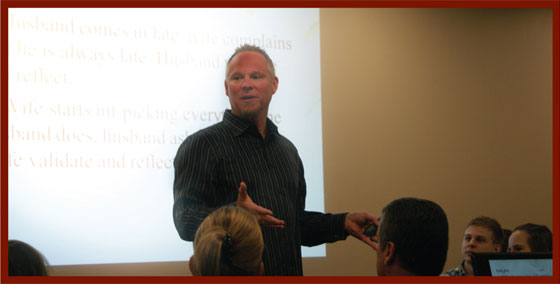 Saturday February 9th (the Saturday AFTER the Super Bowl)
Wheaton Bible Church: 9am to Noon – $35 per person

Husbands, have you ever found yourself feeling, saying or thinking any of the following? :
» "Woman… You drive me NUTS!"
» "Wha-wha-wha… WHAT!?"
» "I will never figure her out."
Well, gentlemen, as much as we'd like to chalk this all up to our ladies being "completely out there"… we were not exactly born with the knowledge of how to be an ideal husband, either. And while there are certainly ways your wife can improve the way she acts towards you, there are also ways you can grow and improve in your role as a husband.
"Husbands' Boot Camp" gives you three hours of focused training on all of the following:
» Understanding the woman's mind
» Dealing with anger
» Communicating
» Being intimate
» Leading your family
» Growing personally
» Being accountable
This is an excellent opportunity to swap stories with the guys while gaining some great ideas on how to better things at home. So come on out to Wheaton Bible Church, Saturday, February 9th (the Saturday after the Super Bowl), 9am – Noon. We guarantee an enlightening (and even enjoyable!) time.
The "Husbands' Boot Camp" will be led by our own Grant Stenzel, a Licensed Clinical Professional Counselor from Stenzel Clinical Services. He provides both marriage and Christian counseling, helping couples and individuals through major and minor problems.
Grant has been married for 19 years, has two children and resides in Wheaton. A former pastor himself, Grant has been attending Wheaton Bible Church for over five years.
Additional information for this event can be found at: www.stenzelclinical.com/bootcamp.  Participation in this event is a one-time, $35 fee. We look forward to seeing you there!