The Best Christmas Gifts for All 5 Love Languages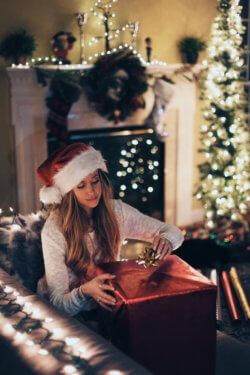 Gary Chapman introduced the 5 Love Languages to the world in 1995. Since then, it's become widely known that every human on earth has a primary love language. If you don't know yours, a Google search or two will help you learn it.
But just as important as knowing your primary love language is knowing your partner's. The love of your life's love language is either Acts of Service, Gifts, Physical Touch, Quality Time or Words of Affirmation. If you've recently wondered why a gift of yours fell a bit flat, it might be because you bought for the wrong love language.
We're here to help. Here are some ideal Christmas gifts for all 5 love languages. To be clear, these are things you can do on top of the gifts you already got that will help your partner feel completely loved and appreciated during this sacred and special holiday.
We'll go in alphabetical order. Let's get started.
Best Gifts for Acts of Service
Acts of Service people LOVE when stuff gets done without having to be consulted about it. You can do all the gift shopping for the family or wrap all the gifts while your partner takes a break. On Christmas morning (or every day that week if you're an overachiever), surprise them with breakfast in bed and a shockingly clean house. Make sure to do your best Hoover impression and pick up all the discarded wrapping paper, too.
Best Gifts for Gifts
That sure is phrased weird, huh? In any case, this one is pretty obvious. You've got to nail the gift-giving here. To do that, we have two words for you: Pay attention. It's wise to keep a running list of things your partner has casually mentioned they'd love to have. Keep notes in your phone or in a super secret notepad, then watch your research pay off on Christmas. And if you say your partner doesn't say what they'd love to have, we'd argue Gifts is not their primary. But you can always ask family or friends for gift ideas if your notes are failing you.
Best Gifts for Physical Touch
The challenge with love languages is that your partner's primary is often completely foreign to you. It takes real dedication to love them in the best possible way if you could not care less about it. And if you don't love cuddling, holding hands or giving a decent backrub, it can be hard to love on Physical Touch primaries. You can do it. During Christmas, commit to more hand holding, more cuddling, more quick brushes as you walk past each other. You can also call in some help if you'd like. A spa session or new membership is always a winner.

Best Gifts for Quality Time
Every person is different, and not every Act of Service or Physical Touch individual gets filled up by the exact same things as their fellow primaries. That goes double for Quality Time. There are practically infinite Quality Time options out there, so go with what fills your partner up most. If watching movies together does it for them, stock up on new films and great snacks. If they love being out and about with you, plan a day together out in nature or exercising or going to a concert.
If they value deep conversations most, get a new journal, some quality coffee beans and have them come to you with what they wrote down in their caffeinated brain dump. Bonus points if you can manage to keep from checking your phone the entire time. Quality Timers love that. Stay locked in.
Best Gifts for Words of Affirmation
The pre-written greeting cards with terrible puns are not going to cut it with this group, my friend. Words of Affirmation want a heartfelt, handwritten note of appreciation. Talk about their character and other reasons you love them so much. Store-bought can often take a hike. They want something from you. A really underrated gift for Words of Affirmation is a fitting quote in a lovely picture frame. It might be a bible verse, a famous quote from the past or simply an inside joke the two of you have.
In Summation:
Nobody knows how to shower your partner with love better than you do. Once you know their primary love language, use your intimate knowledge of them to make it an unforgettable Christmas. Have fun, and Merry Christmas!