Finding Hope in the Midst of Loss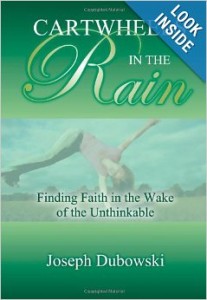 "Our sense of personal identity depends largely on the roles we play and the relationships we have… Catastrophic loss is like undergoing an amputation of our identity." — Jerry Sittser, in A Grace Disguised
These thoughts capture well my own experience when, on Valentine's Day 2008, I learned that my daughter had died from the shooting that took place that day at Northern Illinois University.
So much of my identity was tied up in being the father of Gayle Marie Dubowski—of being her provider, her protector, her confidante, her mentor, her cheer-leader—and all that went with that. Suddenly, in the blink of an eye, all of those titles and roles were stripped from me; the map of my life redrawn without warning, review or permission.
Gone were my expectations of her one day graduating from NIU, of saying good-bye to her at the airport as she left for parts of the world unknown, of walking her down the aisle and giving her away to someone who would be her life's partner, and of holding her children in my arms. Gone.
In their place was a Gayle-shaped hole in my heart, filled with the things I wish I had said to her and hadn't; the harsh things I did say that I wanted to take back but couldn't; and the deeds done or not done as a parent that could never be changed. Such is grief. Also begging to fill the void were anger, frustration, and bitterness toward the gunman who took his own life, and feelings of being forsaken by God, whom I held responsible for protecting Gayle when I could not.
Needless to say, there were many feelings rushing to fill the void left by the one I and my family lost.
This experience threatened to damage my life and any hope I had of happiness and peace. But I was determined to find my way through grief and to get my life back (even though it would be a different life from the one I knew). Along the way, I found many barriers to recovery, four of which I share here:
First of all, let me begin by stating that the conflicting emotions I was feeling are what is known as grief. Grief is the normal and natural emotional response to loss. Not having a good working definition of grief is one of the first barriers to learning what to do about it.
The second barrier is the misinformation about how we should respond to grief. We are told "don't feel bad" (when feeling bad is normal and healthy), "just keep busy" (which only distracts us temporarily), and conflicting things like "time heals" and the concept that it's time to "move on"—all the while not knowing how.
I did not know how to respond to my own grief. I only knew that the strategies of dealing with pain in the past were inadequate for what I was feeling at the time—isolating myself from others, keeping busy, medicating myself with food, distracting myself with fantasies (books, movies), and trying not to feel bad—would not do the trick.
Another great barrier to achieving recovery is the idea that no such recovery is possible. One of the most debilitating ideas that I was told was "you can never get over the death of a child." Such statements steal hope of a happy and fulfilling life, persuade many people to stop looking for relief from pain, and convince them that they must live with the pain the remainder of their lives. Some people even begin to confuse their pain with love for their lost loved-one.
Finally, people trying to recover from loss encounter resentment and hatred. In hating and holding onto the bitterness I felt toward the gunman who killed our daughter I saw no benefit. My resentment did nothing to him; it only robbed me of joy. It coupled what he did to Gayle with bitterness and pain. How could I cherish memories of my daughter if the very thought of her brought up what this man did to her? The only person hurt by my anger (directly) was me.
One of the keys to recovery from loss is the f—word: forgiveness. People who forgive are not people who condone or forget what was done against them; they are people who cease to feel resentment against the person who wronged them. By forgiving the gunman, I set myself free. No longer do his actions on that day hold my happiness and what I choose to do with my life hostage. Instead, I can fill the Gayle-shaped hole in my heart with good and positive things. Although the event that led me to learn these lessons was traumatic, the lessons are relevant for all suffering unresolved grief.
If you'd like to learn more about my story, Cartwheels in the Rain: Finding Faith in the Wake of the Unthinkable, which I wrote following that tragic and eventful day, is about the precious daughter we loved and lost, and the story of our journey through grief to recovery. You may find it here.