"How to Get Your Wife to Shut Up"
A Biblical and Psychological View on How to Love Your Wife and Enjoy a Satisfying, Content Relationship
It's a title that will capture the attention of many. And it's not at all what it might seem…
While there's an abundance of self-help books on marital relationships, those familiar with the self-help world know that these are frequently appreciated by a female-only audience.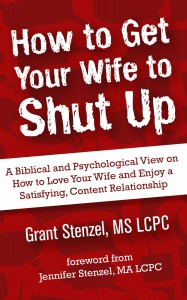 "How To Get Your Wife To Shut Up" is a resource that helps a man understand, in his own language and right where he's at, that he is far from alone with his marital challenges. It provides hope for men, giving them plenty of useful tools (from scripture and plain common sense) to help enhance their marriages and turn their relationships into great rewards, rather than the struggles they experience, now.
This is finally the book full of helpful advice that men will read — spoken in a man's language, from a male's point of view, motivating him to change.
And, while they may not believe it from the title, women will love this book, too. After all, what would it feel like to not have to "talk at" your husband, anymore? To have true consideration, attention and be heard by your husband?
You can find the book online at Amazon.com. You can also purchase a printed copy in Wheaton, Naperville, Schaumburg or Geneva at the Stenzel Clinical Services offices for $10 plus sales tax.
To learn more, feel free to contact me at grant@stenzelclinical.com.
Related Articles:
---