Handling Conflict with Your In-Laws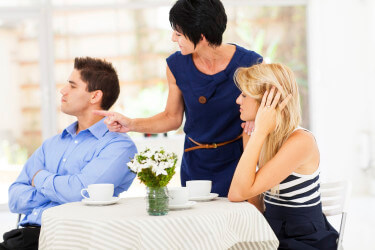 There's an old joke that relates how Adam and Eve were the luckiest couple in the world, as neither of them had to deal with in-laws. But for better or for worse, when we choose our spouse, their parents are part of the deal.
Having a great relationship with your in-laws is always desired, but it's important to acknowledge that it's not always possible. For some couples, in-laws can be irritating, but for others, they can be a serious source of personal and marital stress. When there is trouble, how should couples address the situation?
If your spouse comes to you with an issue pertaining to your parents, simply saying "this is how my parents are" or "they're crazy, and you're not going to change them" can do more harm than good. While this may initially seem helpful, it doesn't validate your partner. It's important to make an effort to acknowledge their feelings and communicate your understanding.
Since completely avoiding in-laws is rarely an option, before get-togethers, it's important to plan ahead and avoid being reactionary to minimize stress and conflict. Here are some basic strategies for dealing with troublesome in-laws:
Choose your words: Develop effective language for dealing with typical stress points. For example, if you're constantly receiving unsolicited parenting advice from your in-laws, a phrase such as "I appreciate that you're tying to help, but we've decided on this direction," can serve to validate your in-law as well as change the subject.
Know your limit: Be tolerant, but set boundaries. There are times to bite your tongue, but also times to stand your ground.
Plan your exit: Before entering a stressful situation with your in-laws, set up a "safe word" to let your spouse know when you're approaching your limits. Your spouse can then initiate a graceful exit with his or her parents before the situation devolves further.
Be a team: In the event of a conflict, always take the side of your spouse when dealing with your own parents. Form a unified front. During these stressful situations, your spouse should never have to think "whose side are you on?".
After the conflict: If your spouse was in the wrong, pull him or her aside afterwards and develop a better plan for dealing with it next time.
If your in-laws (or other family members) are a source of stress and conflict in your life, Stenzel Clinical is here to help. Contact us today.