What Do I Do Now? Tips for First-Time Parents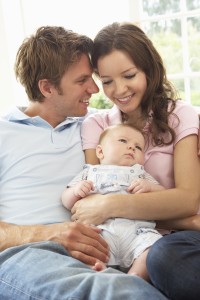 After nine months of anticipation, your little bundle of joy is finally here! You hold your child for the first time in a state of true bliss. But when it's time to take them home, suddenly reality sets in. What do I do now?
Like many first-time parents, you may be feeling anxious with the arrival of your first child. The haze of emotions and sleepless nights can make those first few weeks seem impossible – but there are ways to help you get through it and learn the art of parenting.
Balancing responsibilities with your spouse or partner is a necessary skill to learn. Work together as best as you can to find a system for your household. Communicate your expectations to one another so that, when it does get tough, you'll both be on the same page. Instead of taking the stress out on your partner, take a step back and realize they are probably feeling the same way. Communicating and validating through this new partnership will help facilitate balance.
Whether you have a spouse or are a single parent, surrounding yourself with a network of support is critical. This group can be made up of family, friends, or church and other social services. Regardless of the combination, finding others to help will make your everyday life with your newborn a lot easier.
Your outside support system will often offer more than just babysitting services. Friends and family members may give you advice based on their own experiences. These people are well intentioned, but you don't have to follow their exact path. Listen to what they have to say and do your own research, and from there, you can decide what's best.
Once you've done your research, it's never too early to formulate a plan for raising your child. Parenting with a purpose from the start will help you set goals for your child and establish the values to raise them by. With these guidelines in place, you will be able to navigate any issues or dilemmas that arise as your child grows and develops.
From the personal experience of the Stenzel family, Grant and Jennifer recall the birth of their first child. "We took our baby home and looked at each other, thinking, we are in charge of this life." We know firsthand that raising your first child is the hardest but most gratifying job you will have. Remember that you are not alone in this. Our skilled counselors at Stenzel Clinical are here to support you at every stage of the journey.