Give to Receive: The Best Way to Pay It Forward this Holiday Season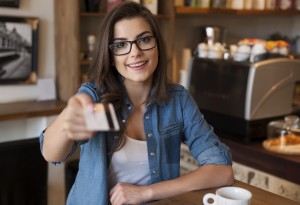 You've been out all day shopping in crowded malls, navigating terrible traffic, and you're chilled to the bone. A hot latte is just what you need. When you pull up to the Starbucks drive-thru, there's a line stretching out of the parking lot. Anxiously crawling up to the window, all you want is your drink and to get home.
But then, the barista tells you that your drink has been paid for by the person who you were only minutes before mad at for taking so long. This unexpected generosity lifts your spirit instantly, and you happily pay for the person behind you. A calm fills your car as you drive home, and you're suddenly excited to wrap the gifts you bought earlier.
Although this is the season of giving, we often get caught up in the stress of the holidays and lose sight of what really matters. Generosity gives you a better perspective, and it's important to get outside of yourself when you're feeling anxious or depressed. Like the Starbucks example, paying it forward not only helps others, but it promotes positivity in all aspects of your life.
There are plenty of ways to give back this holiday season. You can bring in snacks or a special lunch to work for your coworkers, or simply pay a compliment to someone that you appreciate in the office. If you don't have an opportunity to pay it forward directly, speaking highly of a fellow employee to your boss is a great way to help someone in a more discreet way. Small steps towards positivity will promote a better work environment, which, in turn, will help your home life as well.
Be creative in the ways you pay it forward with your friends and family members. Handwriting a note to someone you haven't seen for a while is a great way to add a personal touch and shows that they're in your thoughts.
If you want to reach a larger audience, social media is a quick way to encourage others. The Internet is littered with content that is often self-centered and negative. You can combat this by using social media for more positive means. Post compliments on someone's Facebook or tweet an optimistic thought or picture. This is a simple, yet effective, way to help people who may need a little happiness during the holidays.
No matter how you choose to pay it forward this season, remember that the gift of giving is the best way to relive stress during the often-hectic holidays. If you need help finding encouragement this winter, counselors at Stenzel Clinical are here to talk. We promote positivity and encourage our clients to give back. With something as simple as a smile, small actions have the ability to improve someone's day and can change a life for the better.