3 Tips for Sticking to Your New Year's Resolutions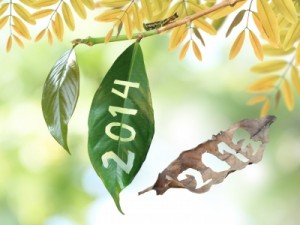 As a year ends, we're usually tempted to come up with a few life-changing resolutions; many of us vowing over and over that "this year the extra weight will be lost!" or "this year we're definitely spending more time with family and friends!".
And while many of us mean whole-heartedly to make these changes, many of us also end up making the same resolutions every year or abandoning resolutions altogether. In this article, we're going to help you take a look at some reasons why these important changes tend to fail, and we'll give you some tips to make sure that this year is different.
Reason #1: We Set Goals, But Don't Plan Actions
Let's look at a typical New Year's Resolution:
I will go to the gym regularly.
I will lose weight.
I will spend more time with my family.
I will write that novel (or learn guitar, etc.).
These are all very positive, well-intentioned goals. However, they are simply that.
Most New Year's resolutions are put into statements of what will be accomplished by the end of next year, without consideration to how that goal will be accomplished. For example, without a solid plan for weight loss, you might proudly skip a cupcake on January 5th, only to gain weight by January 10th due to other poor choices.
To be successful with a New Year's resolution, one must consciously change their habits, little by little. Looking to lose weight? Perhaps you first vow to replace that high-calorie morning caramel latte with a tea or coffee. Then your morning pastry with a bowl of oatmeal. Over time, little by little, you begin to replace other unhealthy eating habits with better ones. Before you know it, you've made lasting changes in everyday behaviors that you'll actually stick to!
Reason #2: We Are Only Accountable to Ourselves
Sure – You may discuss your resolutions quite a bit at the beginning of a year. But come the third week of January, is anyone ever talking about them anymore?
When taking on a new habit, enlisting a close friend or family member to be an "accountability partner" can be incredibly motivating. If you can find a friend who shares your common goal, or even someone who will reciprocate support and accountability while you conquer different goals, having that person invested in change with you can be the extra spark you need during times of weakness.
Those sharing their goals with someone else, gaining support from another person and feeling the pressure of potentially disappointing them, are far more likely to succeed than those going it alone.
Reason #3: We Try to Implement Too Much Change At Once
When it comes to choosing a New Year's Resolution, you'll just want to choose a New Year's Resolution. Creating any sort of change in our lives is difficult, and trying to change several things about yourself at once just amplifies that level of difficulty. So, when it comes to choosing a New Year's Resolution, if you feel motivated to do so, just choose one.
Keep in mind that this doesn't have to be the only thing you change about your life this year. Choose one goal, and choose a habit to change to support that goal. Continue to add habits over time that will make the goal more attainable. Then, if you feel you've got this mastered, consider an additional "resolution" or goal a few months down the line.
What now?
If you're committed to making change in your life, but having a hard time setting goals or changing some bad habits, we're always here to help. Consider us your "accountability partners" on standby. We're eager to help you live a better life, and look forward to walking with you as you do.