Serving and Gratitude: Opening the Door for Joy in Our Own Lives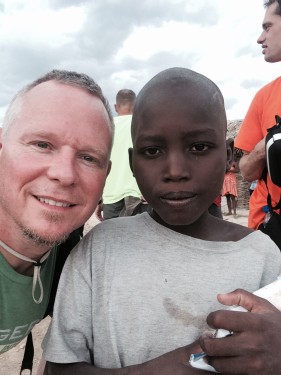 By Grant Stenzel, MS Licensed Clinical Professional Counselor
The holidays seem to be here before we realize it every year. We all want this season to be full of joy and peace, but instead many of us feel anxious and discontented. For those who struggle with anxiety and depression, these feelings can be especially intense. Why do we feel this way? And what can we do about it?
We live in a society of professional complainers. Complaining comes naturally to us because we tend to focus on what we don't have instead of being thankful for what we do have. This can contribute to feelings of anxiety and depression.
Fortunately, there is an alternative to this kind of life. I've learned that joy is deeply connected to gratitude. The more we feel and express gratitude for the blessings that we have instead of focusing on the things we don't have, the more joyful we become.
One of the best ways that we can practice gratitude, and consequently gain more joy and contentment, is by serving those who are less fortunate than we are. Most of us tend to be self-focused, and anxiety and depression only make this worse. While serving is not a cure for anxiety or depression, it can be a great way to focus on something other than ourselves and to feel that we are a part of something meaningful. Giving to others without expecting anything in return can be incredibly fulfilling.
Over the past five years I've had the opportunity to volunteer with Feed My Starving Children, a Christian non-profit hunger relief organization that works to meet the physical and spiritual needs of those living in poverty worldwide. Stenzel has hosted several local packing events for FMSC over the past few years, and in 2014 I was able to travel to Haiti with FMSC on a mission trip to meet some of the people they help firsthand.
My involvement with FMSC has greatly impacted my life. It's brought me so much gratitude and great joy. The trip to Haiti in particular changed my perspective because it made me realize how many things I take for granted every day—things like clean food and drinking water and a safe home to live in. Realizing how blessed I am filled me with appreciation towards the life I've been given and made me realize how much I have to give to others. When I reach the end of my life I want to look back and know that I had an impact on others. Serving through a nonprofit organization gives me an opportunity to make my life count for something bigger.
There are people all over the world who are in need—people in faraway countries and people in our own communities. There are countless organizations and foundations looking for volunteers. Investing your time and energy in serving those people is one of the best ways I know of to take our focus off of ourselves and to help us realize how many things we have to be thankful for.
We don't always have control over everything in our lives. We don't always have the power to change our circumstances, but we do have control over what we choose to do with what we've been given. We can choose to live our lives complaining, or we can choose to be grateful for what we've been given and to use our resources to serve others.
When we let our haves count for more than our have-nots we open the door for gratitude, contentment, and joy.