Our Staff
Li-Shang Tai, Master's Level Intern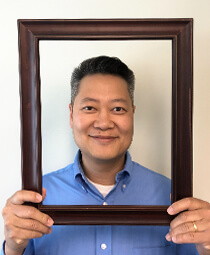 Hi, my name is Li-Shang Tai and you can call me Li (if you like). Currently I am working on my M.A. in Clinical Mental Health Counseling at Wheaton College. I hold a B.S. in Biology from the University of Illinois Urbana-Champaign and a M. Div. from Trinity Evangelical Divinity School. For over twenty years I have been working with a variety of people from all walks of life in a local church ministry as a pastor. I have had the privilege of walking alongside many individuals, couples and families – coming together with them to understand and be a part of the process to overcome the challenges that have arisen throughout different seasons of their lives.
Some ways I have experienced connecting with others in have been: youth/adolescents experiences, parent-teen intergenerational struggles, premarital preparation, marriage conflict resolution, general anxiety, family cultural struggles and daily life challenges. My hope is to come alongside you and be able to build a trusting partnership where we can identify both the struggles and solutions together. I enjoy listening to life stories and hope that through your sharing with me, your personal journey will have a greater fulfillment in each arena of your daily walk as we explore and build together.
I look forward to the opportunity to meet you and explore how best to serve you, finding hope, restoration and wholeness in this process.
lishangt@stenzelclinical.com
630.588.1201
Extension 344
When choosing a therapist, it is important to consider their Areas of Practice. Li-Shang Tai's include:
Anger Management
Anxiety or Fears
Couples Counseling
Depression
Divorce
Family Conflict
Marital Issues
Peer Relationship Struggles
Self-Esteem and Self-Confidence
Spirituality
Teen Issues and Teen Adjustment
---