Coping with Grief During the Holidays
By Rita Rippentrop, MDiv Licensed Clinical Professional Counselor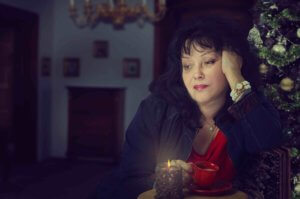 Getting through the holidays while grieving can be a big challenge. It's common to get flooded with memories at holidays, and many worry about being a "downer" or crying at holiday gatherings, where there are expectations of good cheer. Some cope by planning to "gut it out," putting on a brave face and acting as if everything is the same as it was before the loss. But this is not realistic. Many who try to cope this way are asking too much of themselves, and end up being embarrassed and disappointed in themselves when they can't sustain the façade. Others cope by trying to hide from the holidays, refusing to attend events in order to avoid the above pitfalls. This strategy often just exacerbates the aching loneliness felt by the one who has lost a loved one.
Recognize the transition.
So what should you do? Well, helping those in mourning to find a balance between the above two strategies is recommended, and the first step is to encourage them to view the first holidays without a loved one as a transitional time. Acknowledge with them that this holiday will not be the same as past holidays, but also to recognize that whatever they decide works for them this year will not necessarily be their new tradition.  
Be present.
It's also important to encourage them to be present in an authentic way. This includes being gentle with themselves, identifying what their needs are, putting strategies in place to manage their sadness as it appears and identifying people they feel safe being with as they grieve.  
Don't run from emotions.
Help them to manage their expectations by anticipating sadness at inconvenient times. The goal is to make the best plan they feel able to manage, not to get through it. Know that it won't always be "pretty," and that's completely normal. Even more helpful would be for them to discuss expectations with those they plan to be with, saying something like, "I really want to be with you, but I know I'm still going to be sad at times. Is that okay with you?"   
Other strategies that may be helpful to them follow:
Acknowledge the loss by hosting a dinner or giving a toast in the loved one's honor

Do what they are comfortable with, not what they think their loved one would have wanted

Don't wait for others; it's okay to plan their own holiday events

During a meal, ask those present to share a memory of the loved one

Give to others by spending time with them or volunteering to help. This can be very healing.

Make a list of all they are thankful for

Give gifts or mementos from the loved one

Light a candle for their loved one, or attend a spiritual service that is comforting.  Some churches have special services for those in mourning during the holidays.

Make or hand out some of their loved one's favorite treats
Coping with grief is hard. That's okay.
Using or sharing some of the above strategies will likely help someone in mourning to navigate the holidays in a way that feels as comfortable as possible to them, but the most important part of helping clients or loved ones through their grief during the holidays is to allow them to express their grief, and to know that they have been heard and accepted.
The holidays during a grieving period are a unique combination of love and heartbreak, of warmth and pain. It can be a lot to navigate. If you or a loved one are in need a professional during this difficult time, always remember that Stenzel Clinical has a licensed counselor who's the right fit for you.
Related Articles:
---