Single for the Holidays
By Grant Stenzel, MS Licensed Clinical Professional Counselor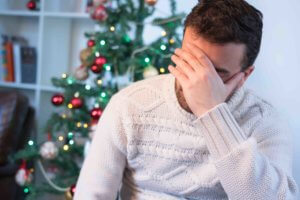 There's a chill in the air. The presents are wrapped, you're wearing your favorite Christmas sweater, and you're listening to carols on the drive to your family party. You open the door, take off your coat, and like clockwork, here come the questions…
"When are you gonna get married?"
 "What happened to what's-their-name?"
 "So you're just gonna be single for life then?"
Such is life when you're single for the holidays. Repeated conversations with well-meaning family members who think singledom is a disease they can cure.
It's not, of course. Being single is a beautiful thing. It lets us work on ourselves and find contentment with who we are. Looking for another human to fulfill us does not work. Single people often grasp that truth well before couples do.
All that said, the holidays can be tough if you're single. There are lots of things that combine to make you feel lesser than your taken family and friends. Here are some mandatory things to remember as you fly solo during the holidays.
---
1. Instead of dwelling on the cons, focus on the pros of being single for the holidays.
You know what's the absolute worst? Arguing with your partner about whose family you're going to visit for the holidays. Or better yet, bringing them to a Christmas party while knowing full well the relationship isn't going to last. Or how about having to prove your love with the perfect gift? BAH. Humbug.
When you're single for the holidays, you get to choose the people that get your time and attention. It ensures you'll be with people you love, people who make you feel as warm and secure as a crackling fireplace does.
2. Do not (Repeat: DO NOT) be fooled by social media.
Everyone's getting engaged except you. Everyone's buying jewelry except you. Everyone's perfectly and wonderfully happy except you.
Don't buy it. As you know, the things people share on social media are handpicked top-tier moments from their lives. They never share the mundane days, the bitter arguments, the frustration and compromise and work it takes to maintain a relationship.
3. Show off your grace skills (and crack the occasional joke) at family parties.
Having to answer "So, when are you getting married?" over and over gets old fast, but do your best to remember that the person asking is curious about you and very likely loves you a whole lot. Give a short and sweet answer, ("You'll be the first to know," "Maybe someday! That's for God to decide," "Whenever it becomes legal to marry my robe and slippers.") then shift the curiosity over to them. Ask them how they're doing, how life is going. The awkward moment will be over before you know it.
4. Don't be afraid to invite yourself to the places you want to be.
Family and friends are often buried in their own lives and sometimes may not realize you're free. Instead of waiting for the invite, send a quick text. "Hey just so you know, I'm not doing anything for Christmas. Can I hang with you guys?" They will absolutely love having you and they'll be glad you asked. Be purposeful and plan it out.
5. Final tip: Don't settle!
The holidays are a vulnerable time. It's easy to find someone who's not right for you just so you can have a +1 and not be alone. We urge you to stick to your standards. You know who you are and the type of person that's right for you. Stay true to that and you'll be rewarded in the long term.
Stenzel Clinical is here to help you and your family with any struggles you may have through out the holiday season.
---
More Articles on Holiday Stress and Relaxation: